Most casual surfers have no idea about the dangers of dirtyroulette but our expose and review shines the light on this murky stranger cams site. Our experience with DirtyRoulette was a real letdown; keep your eyes peeled for the truth about dirtyroulette. 
DirtyRoulette – A Fun Chat Platform Or A Creepy Space?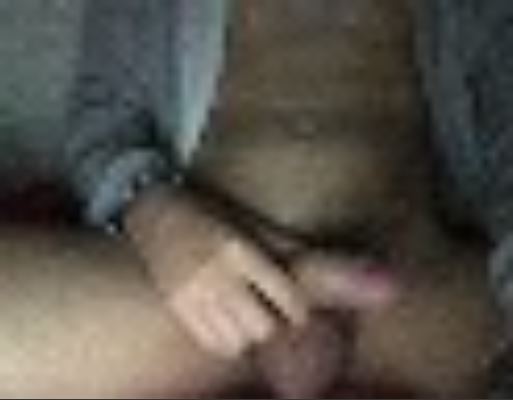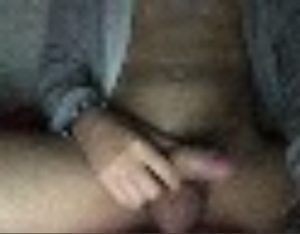 Sexting – A term that was earlier considered a taboo is very common now. The millennials are not afraid to go for the things they like. Not everyone wants to have a serious relationship, some look for random hookups and flings. This growing trend has given rise to hundreds of random chat as well as sex cam chat sites. However, how safe are they? You will find out. 
DirtyRoulette is a free sex chat platform that claims to connect you with horny strangers from all over the world. This place is primarily designed for horny dudes who want to jack off on sexy cam girls. Sounds fun right? 
I hate to burst the bubble, but this place is sick. Dirty Roulette has been blowing smoke over people's eyes, but we want you to get your facts straight before you jump into this trash. 
Dirty Roulette is for dudes and girls who love to sext for a one time fun, kinda like one night stands without any commitments. However, let's be real, this is far from the truth. 
Dirty Roulette = Dirty Dicks. 
As gross as it sounds, this is what you will ultimately find on this sex chat site. Read further to know what you can expect from dirtyroulette. 
DirtyRoulette Features 
When you enter dirtyroulette.com, you will be asked if you are eighteen or above and once you click on "I agree", you will step into an atrocious zone. The interface of the site is quite simple – A red and background with two chat windows on left, one for you, and the other for your chat partner. 
There is a big chat screen that you can use for text chat. Although the name of the site is dirty roulette, it is powered by an entirely different platform called Flingster. Strange!
Anyway, you have to specify your gender and hit the "start chatting" button. These are the tabs displayed on top of the chat screen:
Start: This will enable you to watch the live cams of strangers. If you wish to show yourself, you can turn on your camera. 

Stop: Click on this to stop viewing the cams.

Next: Don't like what you see? Hit this button and view other webcams till you find the one you like(which is very less likely to happen).

Girls: Use this if you only want to view female cams.
You can use the gender and country filters to sort the webcams. However, chances are low to find one person sticking to a conversation, so the filters are anyway useless. Seriously, it is so frustrating to see users simply flipping through the cams without even letting the chat to begin.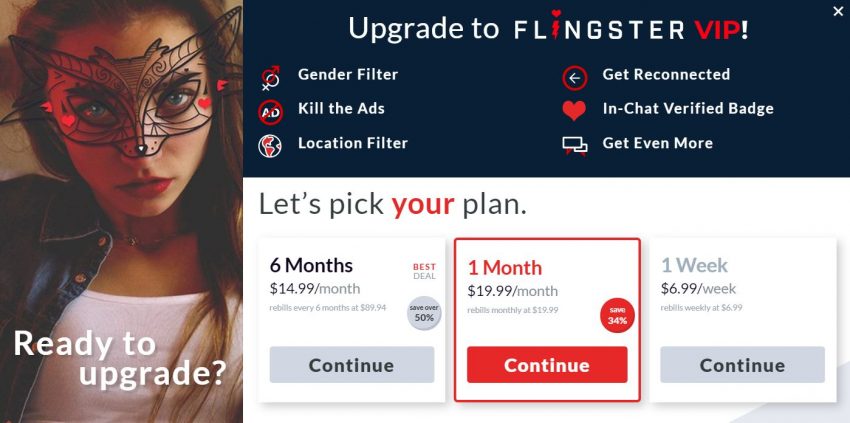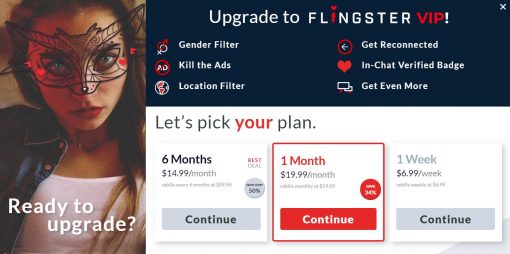 Let us now take the lid off the female webcams this site brags about. According to their claims, you can simply choose the "girls" option and start watching hot cam babes. However, what happens is when you click on that tab, you are asked to sign up.
After doing so, you expect to watch nude chicks who will tease your ween, but alas, you will be down in the dumps because you will have to upgrade to Flingster Vip membership. Yes, that's right! Membership for this crummy chat roulette site, that's definitely going to cost an arm and leg.
The cam chat with strangers is walking on thin ice, you really don't know what you can bump into. However, there's one thing this place will never be short of, DICKS! Really though, who wants to be flooded with nasty men flashing their dicks?
I know dicks are a vibe, but I know my gay friends wouldn't like watching those filthy weenies now, would they? Instead of wasting your time on sites like dirty roulette, you should check out the top sex cams sites that are legit and offer you what you expect.
DirtyRoulette – The Good
Honestly, it is really difficult to pick something valuable from here. However, if I have to list a few, that would be:
Good for people who want to engage in a one-time conversation.

A fun way to kill time if you are bored and horny.

Easy to use.
The Underwhelming Aspects
Dirty Roulette can be a threat to the minors; since this place doesn't have a proper age verification, it is easily accessible.

Lots of perverts that force you to show yourself.

Unsolicited dick videos every few seconds.

Poor quality cams.

Exorbitant VIP price for a subpar site.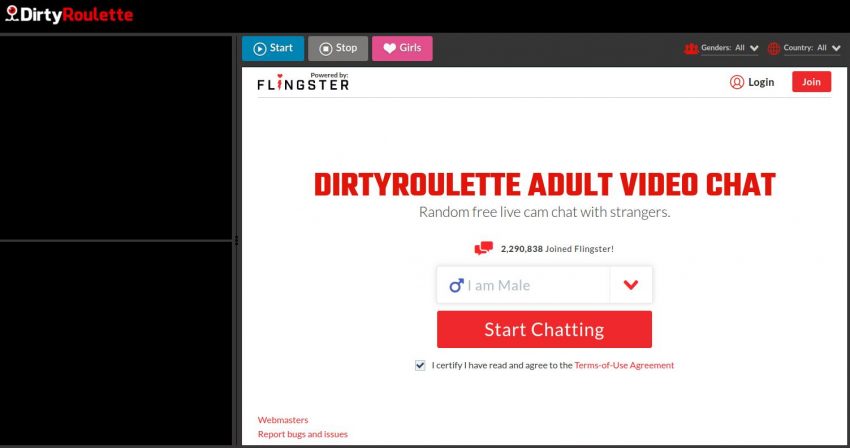 DirtyRoulette Findings & Site Summary
Dirty Roulette is a gimmick and fails to impress us, a few minutes into this site will bore the heck out of you. Also, there are no eye-catching features that make it similar to the boring random chat sites. Overall, dirty roulette was a complete FAILURE.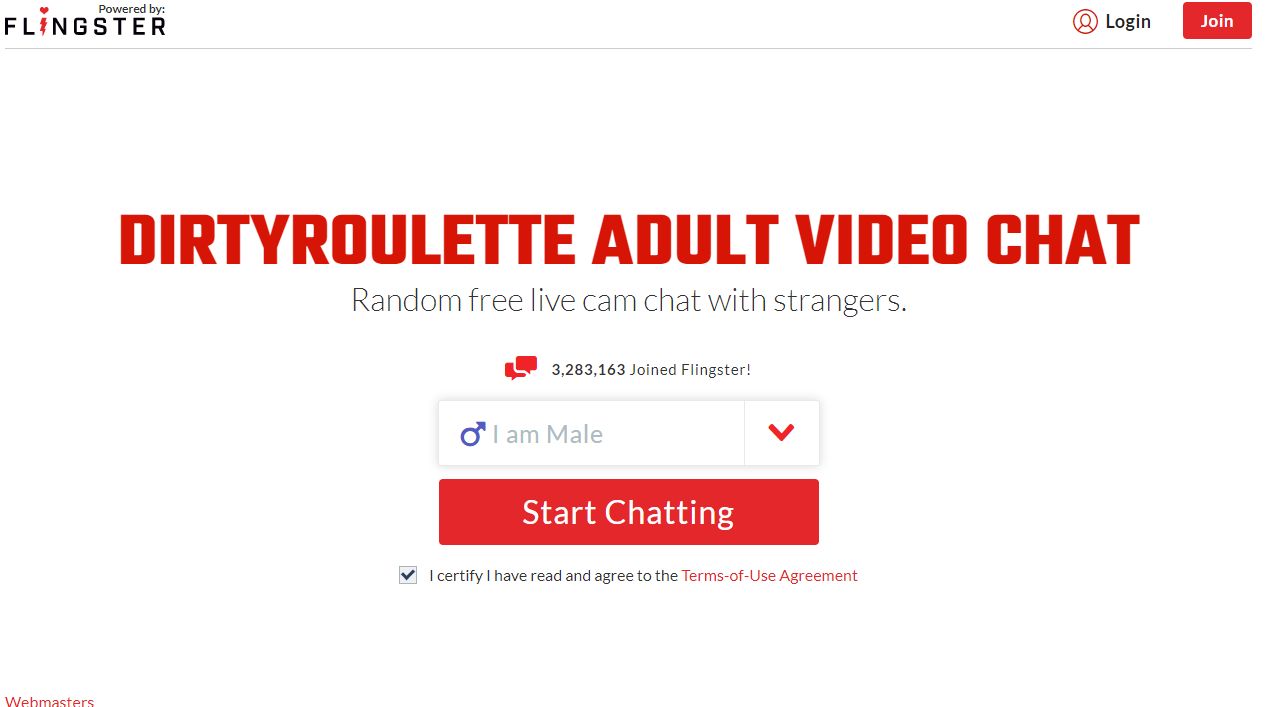 Well, if you have visited dirty roulette and are sick of dicks, then you must give Streamate.com a try. Indeed, Streamate is a blend of gorgeous cam girls and excellent user-centric features that give you the best time. You can watch a lot of free cams or take a babe for a one on one private session.
Our streamate review has a detailed analysis of the prices and functionality of the site, and truly, it is one of the leading adult cam community. LiveJasmin.com is also a great place to find hot bombshells to chat with.
Don't get your balls busted on lousy sites like dirty roulette and instead head over to check the top 10 sex cam sites that we have suggested. If you are new to the whole camming thing, visit our sex cams guide to explore the realm of adult cam sites.
As someone who has been using multiple adult cam sites, I have come across several crummy ones that offer nothing but are mere scams. So stay tuned with us to get the best of live cam sex.